Robert Frost Quotes
Poet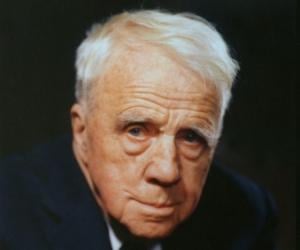 Birth Place
San Francisco, California
Death Place
Boston, Massachusetts,, United States
Father
William Prescott Frost Jr.
Spouse
Elinor Miriam White
Education
Dartmouth College, University of Cambridge, University of Oxford, Bates College, Harvard University
Robert Lee Frost can easily lay claim to the reputation of being one of the most popular modern poets, best known for his poem, 'The Road Not Taken'. In fact, it was this literary creation that inspired his closest friend, Edward Thomas to go to war—a decision that he was long-hesitant in taking. Despite being so revered and celebrated, there are certain facts about him that might surprise you:
His father William Prescott Frost, Jr. was inspired by the well-known Confederate General Robert E. Lee and thus named his son the same.
Robert and his classmate, Elinor White (White became his wife in the future) were both academically brilliant and graduated in 1892 from Lawrence High School as valedictorians.
Young Robert Frost was initially rejected by classmate Elinor, stating the reason that she intended on studying further. This broke the talented poet's heart and he decided to commit suicide. However after a short trip to Virginia, he returned with renewed determination, proposed again, and this time she agreed.
Frost was initially rejected as a poet in America. He moved with his family to England, gained immense recognition for his literary work. When he came back to his homeland during the World War I, he suddenly shot to fame for the same poems that the nation had initially found unworthy of praise.
Robert was the earliest poet to have honored a presidential inauguration for the United States of America. In 1961, he was asked to write a poem for the ushering in of President John F. Kennedy. Though he had written a new poem, he was unable to read it on that day owing to the glaring sun. However, his presence of mind paid of when the peerless writer recited by memory, an older poem titled 'The Gift Outright', which was much appreciated.