Thomas Jefferson Quotes
3rd U.S. President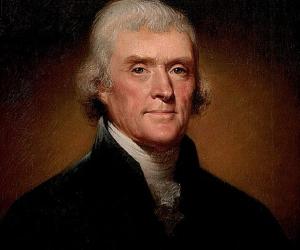 Birth Place
Shadwell, Virginia, United States
Death Place
Charlottesville
Education
College of William and Mary (BA)
There's probably not a single soul who doesn't know about Thomas Jefferson's friendship with John Adams. Given that Adams preceded Thomas as the American President, most people would have expected them to have their share of squabbles. And that they did, what with Adams being called a eunuch and Jefferson's lineage being insulted. However, they soon struck up a bond that very few have been able to replicate. Between their interest in drafting the Declaration of Independence and the eerie coincidence of them both dying on the fourth of July, the same year, the two Presidents had similar tastes in literature.
True, politics was always something they bickered about, but the greatest playwright of all time, William Shakespeare gave them an extensive topic to agree upon. Jefferson and his closest friend were both ardent Shakespeare fanatics. Though Thomas had watched performances of 'The Merchant of Venice' and 'Macbeth', he insisted that there was no better way of appreciating the dramatist's talent than by reading his plays. The US President even declared, "Shakespeare must be signaled out by one who wishes to learn the full powers of the English language."
On one particular day in 1786, both Adams and Jefferson traveled to England to pay a visit to Shakespeare's childhood home. Despite all the expenses he grudgingly bore, Thomas kissed the ground the moment he reached the Elizabethan bard's house, as a mark of respect. That was the amount of love and reverence America's founding father had for the English playwright.