Ernest Hemingway Quotes
Journalist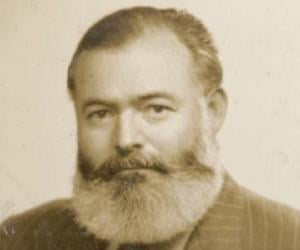 Birth Place
Oak Park, Illinois, United States
Father
Clarence Edmonds Hemingway
Mother
Grace Hall-Hemingway
Spouse
Hadley Richardson, Martha Gellhorn (1940–1945), Mary Welsh Hemingway, Pauline Pfeiffer (1927–1940)
Education
1917 - Oak Park and River Forest High School
'A Farewell to Arms' author, Ernest Hemingway was a colorful personality—blunt, extroverted with an extremely high opinion of his talent. He was great friends with contemporary writer, F. Scott Fitzgerald, and their relationship (though short-lived owing to their respective careers) created fascinating stories that we recount even today. Once Zelda, Fitzgerald's wife, complained that her husband was incapable of satiating her sexual needs. Such an observation of course saddened 'The Great Gatsby' writer and he chose to confide in his friend Hemingway.
He took Hemingway with him to a public restroom in Paris and took off his pants, eager for an honest opinion. Ernest complimented Scott's man part and for further encouragement advised that he visit the Louvre so that he could compare it with what the statues had. This hilarious incident was later retold by Hemingway in his narrative, 'A Moveable Feast'.
Later, the two exceptional novelists continued to be in touch through letters. In one such letter, Fitzgerald advised Ernest how to write the perfect ending to 'A Farewell to Arms'. Hemingway wasn't too happy about being told how to write, and replied with a "Kiss my ass". The same Hemingway sent Fitzgerald a correspondence, suggesting the latter should "toss two parts of his manhood into the sea, if he even had them anymore". This remark came right after Scott had published the essay, 'The Crack Up'.