Stephen Colbert Quotes
American comedian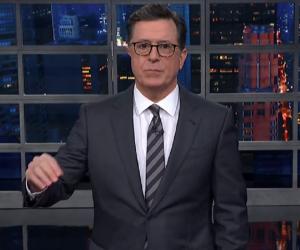 Birth Place
Washington, D.C., United States
Father
James William Colbert Jr.
Spouse
Evelyn McGee-Colbert
Education
Northwestern University, Porter-Gaud School, Hampden-Sydney College
American television host, Stephen Colbert was reportedly quite bold as a child, as the staff of his program, The Late Show found out. Interviews with old friends and family members revealed that his childhood was marked by daring incidents such as making out in the car and destroying his mother's favorite crystal chandelier with a football. In fact, after shattering it to pieces, Colbert went ahead and took out all the crystals. He admits, "I took all the crystals off, hundreds of crystals, and rehung them in a new pattern. She never noticed. I told her 30 years later."
His parents were also quite unorthodox when it came to giving Stephen the liberty to choose how he wished to pronounce his surname. The young boy decided to pronounce it as, "col-BEAR". Apparently the articulation of the last name of this South Carolina actor, in such a manner, just made it sound less Southern and more international.
This TV presenter is also known for a touching story that he recently shared on his show as a tribute to the late Glenn Frey. He spoke about Frey's song, 'Desperado' and how when he was in eighth grade, it gave him a chance to gain confidence in himself. "The first slow dance I ever danced to was to 'Desperado.' "I didn't dance with anybody all night long until the very last song, and I found myself over on the girls' side. And the DJ goes 'It's our last song, and it's a slow one.' And he puts on 'Desperado,' which is the perfect last song at an eighth grade dance when you have danced with no one. Because I was the desperado.