Robin Williams Quotes
American stand-up comedian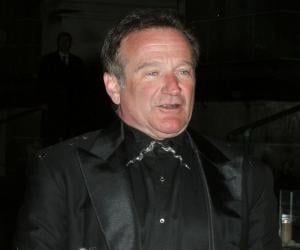 Death Place
Paradise Cay, California, United States
Spouse
Susan Schneider (m. 2011), Marsha Garces, Valerie Velardi
Education
Detroit Country Day School, Redwood High School, Claremont McKenna College
Photographer Daniel Sorine visited the Central Park in 1974 and captured some pictures, which included those of a few mime performances as well. After 35 years, Sorine was flipping through those photographs and one of them left him stunned. He recognized that among the many mime artists he captured, one was none other than the legendary actor Robin Williams.
Robin Williams and 'Superman' star Christopher Reeve shared a lifelong friendship which began and blossomed at an acting school. They were the only two students to be taken into the advanced program of the 'Julliard School', an institution which imparts training in performing arts.
Robins had recalled once "Him being such a great friend to me at Juilliard, literally feeding me because I don't think I literally had money for food or my student loan hadn't come in yet, and he would share his food with me."
In 1995, Reeve met with a terrible accident which fractured his vertebral column and left him paralyzed. Talking about this difficult phase of his life, the actor said, "was frightening to contemplate. ... I already knew that I had only a fifty-fifty chance of surviving the surgery. ... Then, at an especially bleak moment, the door flew open and in hurried a squat fellow with a blue scrub hat and a yellow surgical gown and glasses, speaking in a Russian accent."
This person was none other than Robin Williams, who was there to surprise as well as support his friend. The 'Superman' actor then recalled "For the first time since the accident, I laughed. My old friend had helped me know that somehow I was going to be okay." "I knew then: if I could laugh, I could live." added Christopher.