Rhea Chakraborty Quotes
Actress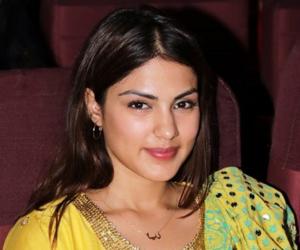 Birth Place
Bangalore, India

I do not follow a charted diet plan. I eat everything.

Patience is the name of the game in Bollywood.

I believe more in looking after yourself than in doing make-up. So if it's skin care versus make-up or taking care of your inner body instead of just looking good, choose the former. You will end up looking good in whatever you wear.

I am a Bengali. My mother is from Mangalore so it's a mix of both cultures at home.

I want to work with Farhan Akhtar.

I don't believe I am hot. But I think if you keep your body in shape, work out and look after yourself, it helps.

I started my career with 'Teen Diva,' and that helped me learn anchoring. Fortunately, I got work after the show ended.

I've always had long hair and it's something I'm proud of.
I hope to do meaningful and different types of roles.

I think it would be interesting to know what it feels like to be the most beautiful woman in the world.

I drink lots of water and avoid make up as much as possible. I also make sure I get a good night's sleep.

According to me films like 'Sonali Cable' are career changing films and only few get such chance, I am happy that I did this film.

Of course nepotism exists, but if star kids are not good at what they do, they won't last.

I am continuing to do lead roles and that is where I am actually headed, but doing cameos is also a fun experience.

The entire experience of 'Sonali Cable' has been beautiful. It has been a long journey for me, both physically and emotionally and a great learning experience.

I do actively look out for any kind of work, whether it's long form, short or web. I just look out for interesting characters. It doesn't matter where it is.

I have studied in 14 schools.

I want everyone to understand that as an actor you need to be able to play different roles, be versatile even in terms of your personality.

Actors do all kinds of roles, but once in a while, we also want to do a meaningful film.

It's always a pleasure and a blissful experience to work with Yash Raj Films banner.

My father was in the Army so I have lived all over India.

When you're a VJ, you can say whatever you want, dress whatever way you want to. You play your own character.

Even for digestion, I boil aijwain, jeera, ginger and lemon in water and drink it all day.

When it comes to opportunities, your father or mother can only set up a meeting for you. However, your opportunities will only materialise if the star kid is talented or suits the role.

I am not defined to be in any mould and I can be whatever I want to be.

I think a woman's role is not just confined to being a homemaker and have babies, but a lot more.

If a guy is going to get paid and will be covered on a magazine cover for revealing his relationship status, then girls toh definitely should get featured in two magazine covers and many more things to reveal the relationship status!

People must at least do basic squats, yoga and surya namaskar every day to keep their mind and body fit.

Sonali Cable' is not a low budget film, it's a normal budget film.

I have realised taking a stand is tough, but what's tougher is maintaining it and letting go of all those who doubt your intent.

I can be the girl next door, be the sexy girl, be an action girl. As an actor, this is something that people need to see.

I'd like to be Marilyn Monroe for a day.

For me Salman's the most romantic and the best action hero there ever could be. I'm so attracted and mesmerized by him! For me he's the ultimate superstar, I can just watch him for hours.

People eat to live but as far as I am concerned, I live to eat and it adds an extra glow to my skin.

I am very public about my love for the people in my life, whether they are girls or boys.

My nickname is Mishti... I am named after mishti doi!
My journey has been beautiful, more than what I could ask for. Of course there have been ups and downs but I've been fortunate and grateful for this journey. It has taught me a lot, I've grown, become a better actor and a human being.

Yeah, I am fun loving. I do crack jokes at times too.

A lot of people advise me about the things that I need to do and shouldn't do, but I feel there is no right or wrong in the industry.

Through the auditions and the process of 'Sonali Cable,' I realised that I want to be an actor.

Sometimes I just rub the fruit that I eat for breakfast on my face to hydrate it and give it a nice glow.

There is a somewhat different struggle when one comes from a film family. If you don't work hard enough or are not talented, you won't make it.

I was on a show called 'Teen Diva' which was being aired on MTV. I talked a lot on the show and the boss there thought I was good for VJ-ing since I spoke so much.

I love all my friends and I don't hide that.

Even if you are an established actor's son or daughter, you need to work hard.

Apart from trimming ends, I haven't really cut my hair.

Back during my VJ days, I was overconfident as I was on television and was earning money very early in life.

There are so many people who are trying their luck in films and only a few of those actors get to do films and choose to be an actor. The stakes are always high here. It's hard in the sense that it's very uncertain.

Home remedies are the best.

If I was offered a Salman Khan or a Shah Rukh Khan film, I would have signed it. No one says no to that.

People told me, 'you can't do intense characters.' Some said 'you look too commercial,' and I would wonder what a 'commercial look' is.

As a young actor, everything new and different is an opportunity and worth its while.

As actors, we do have certain powers. I want to use them for the right cause.

Alia Bhatt's role in 'Udta Punjab' is something I would like to do. Nobody can replace Alia in the movie, and she did a fabulous job, but I would love to do such roles.

The industry confines us in boxes, but we have to prove that we are women of substance.
When I was in MTV, I wasn't really looking out to do films.

I would love to do ten films a year.

I never even knew I would end up becoming an actor. It was coincidental for me. Once I did it, I realised it's what I really want to do.

When you watch films, there are so many different types of characters you want to portray.

Being a VJ, I never had an issue being in front of the camera. I'm totally at ease and that's my saviour.

I don't think anyone can make it in Bollywood without talent and hard work and it applies to all fields.

MDKM' has to be the right launch for me. I was pampered a lot on the sets while I bullied everyone.

I like Vidya Balan, Kareena Kapoor and Anushka Sharma.

Both are two different things. As a VJ, you are yourself. But as an actor, you are playing a character that you want people to fall in love with.

I had auditioned for 'Band Baaja Baarat' but did not get selected. I was feeling bad, was upset. But I think certain films are meant by destiny. And that film was not meant for me.

Ram Kapoor is super chilled out. He's so humble. He's very passionate towards his work. You get to learn a lot from him.

I am on good terms with whoever I have worked with. We never discuss films. We discuss life and what we had for lunch!

All women should become Hercules!

Everyone thinks I am Punjabi till I tell them my surname Chakraborty.

Mahesh Bhatt has been a great influence in many people's lives. The vibe he brings onto the set is very positive.

Girls should empower themselves and be strong enough to protect themselves.

The problem with online shopping is that you cannot feel the fabric.

Doing a film with YRF is like a dream come true for a newcomer. It's like a family here. Everyone looks after you. If you do your work well, they appreciate you. You are in safe hands with such production houses.

Your fashion depends on who you are and you should wear clothes according to who you are. You should also be comfortable in what you wear.

I think no one really knows for sure what will work at the box office. Even big production houses don't know what will do well and what won't.

I feel Prawaal Raman is an amazing director with great films in his pocket like 'Gayab.'

I dress according to my mood. Some days I don't want to dress up, while some days I want to look great and so I make an extra effort to put on some Kajal and beautiful dresses, but it all depends on my mood.

I have seen many times in 100 Crs films there is no content, in short only money is wasted.

I don't think of any movie as big or small, after all what matters is content of the film.

I learned that you have to fall in love with what you are doing and then you will enjoy it.

I don't really have a fitness regime. I swim regularly and hit the gym once in a while but I also eat a lot.

It's so smart to include pockets in gowns.

Chocolate is there in my name itself, so how can I stay away from it?

I was preparing to get into one of the IITs when I was in school. I was a good student.
It's quite a layered character that I portray in 'Jalebi' and I needed to deviate and cut-off completely from the world to get into a different zone as a character. I'm really glad it proved beneficial and worked to my advantage.

I hate it when people match their clothes, shoes and accessories.

I am fashion conscious but not to the extent that girls are. I am just fashion conscious to the point where I want to look presentable and nice when I walk out of the house.

I don't do any work that I am not very convinced about. That has always been my stand.

I never did any acting in school. There was only one play in which I participated and it had no dialogues for me.

I love my silver payals which I've been wearing for years now.

I think some star kids have it even harder than outsiders, because the pressure is too much.

Bank-Chor' is a rollercoaster ride and I'm delighted to be on it.