Epictetus Quotes
Philosopher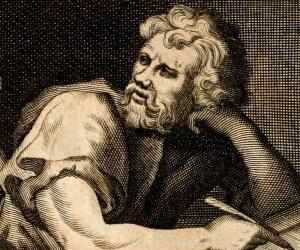 Birth Place
Hierapolis, Phrygia, Turkey
Death Place
Nicopolis, Achaea, Greece

Control thy passions lest they take vengence on thee
Difficulties are things that show a person what they are.

He is a drunkard who takes more than three glasses though he be not drunk.

All religions must be tolerated... for every man must get to heaven in his own way.

All philosophy lies in two words, sustain and abstain.

First learn the meaning of what you say, and then speak.

He is a wise man who does not grieve for the things which he has not, but rejoices for those which he has.

First say to yourself what you would be; and then do what you have to do.

God has entrusted me with myself.

Freedom is not procured by a full enjoyment of what is desired, but by controlling the desire.

It is impossible to begin to learn that which one thinks one already knows.
It's not what happens to you, but how you react to it that matters.

Imagine for yourself a character, a model personality, whose example you determine to follow, in private as well as in public.

If evil be spoken of you and it be true, correct yourself, if it be a lie, laugh at it.

Keep silence for the most part, and speak only when you must, and then briefly.

Subdue your appetites, my dears, and you've conquered human nature.