Chanakya Quotes
Philosopher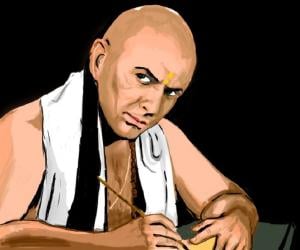 He who lives in our mind is near though he may actually be far away; but he who is not in our heart is far though he may really be nearby.

As long as your body is healthy and under control and death is distant, try to save your soul; when death is immanent what can you do?

A good wife is one who serves her husband in the morning like a mother does, loves him in the day like a sister does and pleases him like a prostitute in the night.

A person should not be too honest. Straight trees are cut first and honest people are screwed first.

Education is the best friend. An educated person is respected everywhere. Education beats the beauty and the youth.

Never make friends with people who are above or below you in status. Such friendships will never give you any happiness.

God is not present in idols. Your feelings are your god. The soul is your temple.

Once you start a working on something, don't be afraid of failure and don't abandon it. People who work sincerely are the happiest.

Books are as useful to a stupid person as a mirror is useful to a blind person.

A man is born alone and dies alone; and he experiences the good and bad consequences of his karma alone; and he goes alone to hell or the Supreme abode.

There is some self-interest behind every friendship. There is no friendship without self-interests. This is a bitter truth.

The earth is supported by the power of truth; it is the power of truth that makes the sun shine and the winds blow; indeed all things rest upon truth.

The world's biggest power is the youth and beauty of a woman.

The rain water enlivens all living beings of the earth both movable (insects, animals, humans, etc.) and immovable (plants, trees, etc.), and then returns to the ocean it value multiplied a million fold.
The fragrance of flowers spreads only in the direction of the wind. But the goodness of a person spreads in all direction.

Purity of speech, of the mind, of the senses, and of a compassionate heart are needed by one who desires to rise to the divine platform.