Nikki Giovanni Quotes
Poet, Writer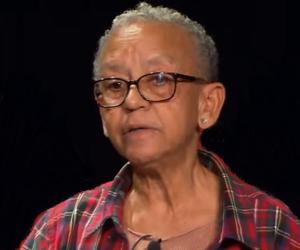 Father
Jones "Gus" Giovann
Mother
Yolande Cornelia, Sr.
Education
Fisk University, University of Pennsylvania, Columbia University
Nikki Giovanni, the 72-year-old African-American writer who is an ardent fan of the Harry Potter books, once revealed during an interview what inspires her to pen down her thoughts. This peerless educator insists on blending music with poetry, simply because like "strawberries and cream—they go together". She claimed that of all her poems, 'Ego-Tripping' was the most challenging as well as the most popular. When asked why she wrote it, Giovanni admits it was because she wanted it to be a gift for girls all across the globe. She wanted young women of our generation to realize that they are nothing short of the men, despite all prejudices and gender bias displayed through eons. However, the poem proved to be more rewarding than she had expected when she saw how much even boys loved reading it.
Another creation that gave Nikki her fame, was 'All Eyes on You', dedicated to the late rap artist Tupac Shakur. Why did she do so? To grieve the death of a man who played a significant role in the evolution of "the art community, the black community, and the American community". This revered poet, who is also a sought-after human rights activist, insists that her work, 'The Funeral of Martin Luther King, Jr.' (unlike 'All Eyes on You') was more of a political poem rather than a eulogy.
The third poem that is close to her heart is 'Cotton Candy on a Rainy Day', which was written for those who had grown up the old-fashioned way; those who knew the value of things that could not be preserved, just like life itself.