Larry King Quotes
American Television and Radio Host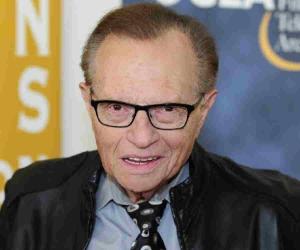 Death Place
Cedars-Sinai Medical Center, Los Angeles
Father
Immigrant Edward Jonaton Zeiger
Spouse
Shawn Southwick (m. 1997), Alene Akins, Annette Kaye, Freda Miller, Julie Alexander, Mickey Sutphin, Sharon Lepore
Education
Lafayette High School
Larry King, then a mere 23-years-old, had worked as a radio host for just about two weeks, when the station manager unexpectedly called him and said, "The all-night guy is sick. Would you like to fill in tonight?" The young King readily agreed to host the night show and played a few records back to back when the phone rang. As soon as the host received the call, the lady on the other side said, "I want you." After confirming that he'd indeed heard her right, he instinctively replied, "I get off at six!"
The lady, now all the more persistent, demanded, "Naw, that won't do. I've got to go to work. You gotta come now" and she pleaded for him to come. About what happened next, King himself says, "I got her address. I'm the only one in station. So here's what the audience heard: 'Ah folks, I'm only sitting in tonight, so I've got a real treat for you. You're going to hear the entire Harry Belafonte at Carnegie Hall album uninterrupted.' I had 33 minutes, which is all the time I needed."
However, when Larry did reach the woman's house and the two were in the middle of a romantic adventure, singer Harry Belafonte's famous track 'Jamaica Farewell' went, "Down the way where the nights—where the nights—where the nights—". That's right, the record was stuck, and King narrates, "I push her back. I jump in the car. I drive to the station….I come back. All the phones are ringing. I'm apologizing to people. And the last call I never forgot. An old Jewish guy. "WAHR" and I hear this guy go, "Where the nights—where the nights. I'm going crazy. I'm going crazy." I said, "Sir, I apologize. Why didn't you change the station?" He says, "I'm an invalid. They set the station for me on top of the bureau and I can't reach it."