Gilbert K. Chesterton Quotes
Writer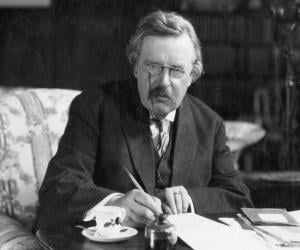 Education
University College London, Slade School of Fine Art, St Paul's School, London
G.K Chesterton was one of the most-loved English authors, who dabbled in a variety of genres including fantasy, Catholic apologetics and mystery. He was quite a fascinating person and the following facts will tell you exactly why:
Chesterton was deeply interested in theatrics, with his initial obsession beginning with puppet shows that he attended when he was a child. This writer used to stage shows at his residence, where invitees used to gather in the garb of famous eighteenth century personalities. During such events, the prolific author himself loved to imitate Samuel Johnson. In fact, critics have even compared these two great figures based on their literary style as well as their appearance.
It might be surprising to know that though Chesterton gained fame for his penmanship, he did not receive any formal training in literature. This author was taught art, and he excelled in the field to such an extent that his sketches were published in the book, 'Biography for Beginners', written by Edmund Clerihew Bentley.
Gilbert, as a child proved to be a slow learner, so much so that his parents took his incapability to grasp various aspects of knowledge as a major concern. They took him to a psychiatrist, who assured his parents that Chesterton's IQ was actually quite higher than normal.
Chesterton's wife, Frances regularly edited her husband's work, but never made a name for herself in the literary field. 'How Far Is It to Bethlehem?', the only poem penned by her that became popular, is now sung as a carol.