Walt Disney Quotes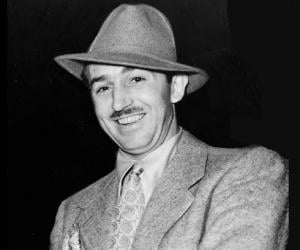 Education
Benton Grammar School, Kansas City Art Institute, School of the Art Institute of Chicago
Walt Disney has been described as a control-freak by many and stories about his domineering nature are abundant. The Anaheim Disneyland was built on an area sprawling over a few hundred acres but Walt Disney was not happy about the motels that had mushroomed near the recreational space. He said these dwellings made Disneyland look like a 'cheap Vegas'. Disney had amassed a great fortune and reputation by the 1960s and he set about fulfilling his dream of building a new amusement park in Orange County, located in the state of California.
As there were chances of real estate prices sky-rocketing if investors got a hint of his plans, Walt acquired the lands through proxies. But driven by the compulsion to oversee if everything was going as planned, he made it a point to visit these sites. It was during one such time that he was at a restaurant, where a waitress asked him, "Pardon me, aren't you Walt Disney?" To this he replied, "No, and if I ever see that blankety-blank Disney I'll give him a piece of my mind!" Before the sellers got to know the truth, Walt Disney had already acquired land twice the size of Manhattan for the construction of the theme park.
.When he decided to make a half-hour long film titled 'Seal Island', distributors told him there was no market. The animator still went ahead with his idea and Seal Island went on to win an Oscar. The tenacity of this man resulted in the making of 'Snow White and the Seven Dwarfs' and several other path-breaking animated feature films.