Venus Williams Quotes
American tennis player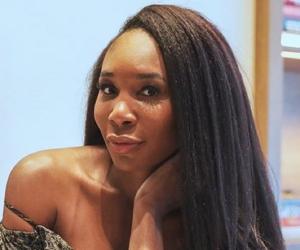 Birth Place
Lynwood, California
Education
Indiana University East, The Art Institute of Fort Lauderdale
This outstandingly exceptional tennis player has not only been in news for her phenomenal sporting abilities, but also for her fashion sense, which many consider to be disastrous. In 2007, Venus launched her own clothing line, 'EleVen' with an aim of popularizing clothes and footwear that will be comfortable to wear on the tennis court.
However this business venture did not work in her favor and the tennis star's move was slammed by the public. The white onesie she wore during her match with Uzbekistan's Akgul Amanmuradova in 2011 subjected her to a lot criticism from the media. The dress was too short and revealed a little too much to the spectators, resulting in an outcry amongst Tennis enthusiasts.
Many also opined that the upper part of her dress was far from appealing, since it made her chest look saggy. It was later revealed that this outfit that was a product of her firm 'EleVen'. Even though the material and the print of the dress were quite nice, overall it was rated as a fashion faux pas.
However, some feel that Williams is quite a positive thinker who isn't too shaken by the harsh remarks and has been continuing to prove her prowess at the Tennis court. Year 2001 saw this 'The Art Institute of Fort Lauderdale' graduate being ranked among the 30 most powerful women in America by the 'Ladies Home Journal'.