Sophia Bush Quotes
Actress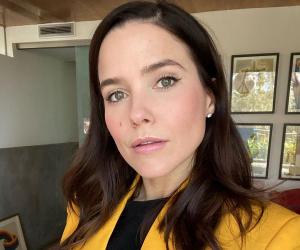 Birth Place
Pasadena, California, United States
Father
Charles William Bush
Spouse
Chad Michael Murray (m. 2005 - div. 2006)
Education
University of Southern California, Westridge School, Massman Theatre (DRC) - USC School of Dramatic Arts
Acclaimed television actress Sophia Bush goes gaga over dogs, especially the ones that have been rescued. As a toddler, the Chicago P.D.' star's first love was Bouncer, a Doberman belonging to her mom. The canine used to watch over Sophia while she slept in her crib at night.
Acknowledged for the benevolent work she does to help dogs, the renowned star says she was only 6-years-old when she adopted a puppy named Jake, born to her teacher's pet. Thanks to the support of her parents, Bush always ensured that she adopted rescue dogs and there was never a moment when the family had less than three pets at a time. Now, she has three Pit Bull mixes that have all been brought home from animal shelters. Three-year-old Griffin is the largest and the friendliest, while Penny and Patch are the other two canine companions that this talented actress takes care of. Sophia claims that, "No matter how many dogs you have in your life, you have one that's a soul-mate dog, and for me, that's Patch."
When asked what are the crazy things she did as the 'dog lady', Bush said, "Half the time people come over and look for me, and they realize I'm on the floor with the dogs or in the dog bed. I had a nozzle on a hose in the tub so I could give the dogs a full beauty shop shampoo. They don't love to get baths, but they like the after-bath routine -- the aggressive rubdowns and little massages. If I'm bathing them in the winter, I blow-dry them."