John Maynard Keynes Quotes
Economist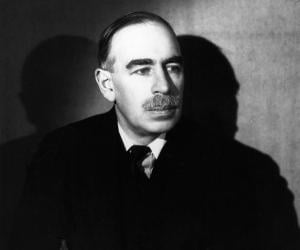 Birth Place
CambridgeApril
Father
John Neville Keynes,
Mother
Florence Ada Keynes
Education
King's College, Cambridge, Eton College, University of Cambridge
When you think of economics in the 20th century, John Maynard Keynes has to be the first name that comes to mind. However, not many of his admirers are aware of these riveting facts about his life:
Did you know that Keynes didn't really receive formal training in Economics? He specialized in mathematics and classical literature at the King's College, Cambridge. As for Economics, he underwent training for only eight weeks and did not even appear for any examination.
John Maynard always advocated rights for women. He insisted that every woman had the right to choose their relationships and have an equal say in all matters. He believed that women should have the choice of availing contraceptives, undergoing sex education and most importantly, stop being treated as subordinated or sexual objects.
This economist was a bisexual; though he had a satisfying marriage with dancer Lydia Lopokova, he had homosexual affairs with other men before his wedding. In fact, his best man at his wedding was his lover, artist Duncan Grant.
This brilliant theorist always believed in second thoughts, because he knew all ideas were transient and had to change in order to develop further. What made him such a sought-after and revered economist was the fact that he treated his subject as a "matter of time and temper". His end goal was to serve generations and not follow variable rules.
His works became so popular that he was made an epithet—Keynesian was a term coined to describe the budget deficit borne by a government during administration of public welfare initiatives.