Helen Keller Quotes
Author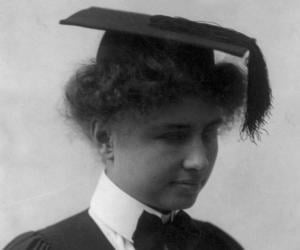 Birth Place
Tuscumbia, Alabama, United States
Death Place
Arcan Ridge, Easton, Connecticut, United States
Mother
Kate Adams, Kate Adams Keller
Education
Harvard University
Prolific writer Helen Keller's inspiring story continues impress many. With the help of her teacher and friend Anne Sullivan she learnt to communicate through finger-spelling, lip-reading, reading Braille and even using a typewriter. Not only that she became one of the first deaf and blind person to earn a Bachelor of Arts degree. She was friends with many eminent people of the time including author Mark Twain and inventor Alexander Graham Bell. Here is a story where Mark Twain recounts the first time he met Helen.
A group of 12-15 people had gathered at Mark's friend's place and it so happened that fourteen-year-old Helen was also invited. The hosts introduced her to the guests one by one. Mark noted that after shaking each of their hands, Helen would lay her fingers slightly against the lips of Anne, who in turn would speak the name of the guest. When she found a name difficult, Miss Sullivan would use her fingers to spell it on Helen's hand.
After the pleasantries were exchanged and everyone settled, someone asked if Helen would be able to discriminate among them just by feeling their hands and how would she remember the feel of everyone's palm. To this Miss Sullivan replied, "Oh she will have no difficulty about that." Curious to see how such a thing was possible they decided to test Helen's ability and everyone approached her one by one and shook her hands. The deaf and blind teenager girl surprised all as she spoke the name of each individual correctly without any hesitation.