Elizabeth Barrett Browning Quotes
Poet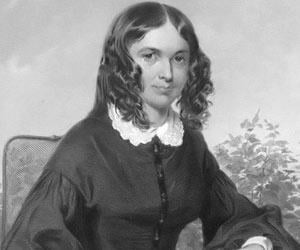 Birth Place
Kelloe, Durham, England
Death Place
Florence, Italy
Father
Edward Barrett Moulton
Mother
Mary Graham-Clarke
True, that this adroit poet is best remembered for 'How Do I Love Thee?' as well as her romantic relationship with husband and fellow poet, Robert Browning, but there is more to this exceptional writer.
A professional poet who was popular even before her marriage to Browning, Elizabeth was an avid social rights activists. Through her writing she condemned heinous practices such as slavery (despite her father showing his dissent). She even wrote to John Ruskin, an art critic during her time, "I belong to a family of West Indian slaveholders, and if I believed in curses, I should be afraid".
She protested against child labor through the poem, 'The Cry of the Children'. Incidentally, as we know from the books by Charles Dickens, child labor was the norm of the day in British society.
Once again, the importance of women was rarely acknowledged in the Victorian era, and her work, 'Aurora Leigh' advocated equal rights of the fairer sex, especially in the professional field.
Poetry aside, her prose was so impeccable that revered American writers, Edgar Allan Poe and Emily Dickenson were inspired by her works. In fact, Poe observed of Elizabeth's works in the Broadway Journal, "her poetic inspiration is the highest—we can conceive of nothing more august. Her sense of Art is pure in itself." As an acknowledgement of the praise, Barrett applauded Poe's 'The Raven', which he in turn dedicated to her.