Aldous Huxley Quotes
Writer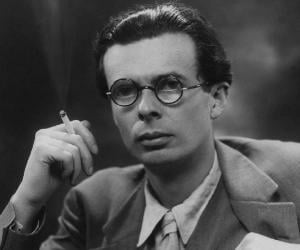 Mother
Julia Arnold Ward Huxley
Spouse
Laura Archera Huxley
Education
Balliol College, University of Oxford, Eton College
Who hasn't heard of 'Brave New World' by Aldous Huxley? It was indeed a revolutionary novel in its own right, portraying a dystopian society that seemed almost irreparable. Let's unearth a few facts about this matchless writer that you might not have known until now.
In 'Brave New World', Huxley employs words that had never been used before. For example, this talented writer coined the word 'sexophone' (probably his own take on the saxophone) which referred to a musical instrument played with the objective of arousing sexual desires in a person. He also used words such as Dadaist (a creative man who hates the socio-political values of his time), bitchy, futurology, snooty and nymphomaniacal.
He wrote a novel, 'Brave New World Revisited' soon after, just to analyze the predictions he had made that had come true.
This novelist had several connections with other revered writers. For starters, Huxley was 19th century poet, Matthew Arnold's great nephew.
He taught French to fellow novelist George Orwell and famous historian Steven Runciman. He probably influenced Orwell to follow in his footsteps and pen down dystopian novels.
Huxley was also close friends with 'Sons and Lovers' author, D. H. Lawrence, and was one of the only ten people to attend the latter's funeral service.
Aldous breathed his last the very day (November 22, 1963) another literary great, C.S. Lewis passed away. Not just that, even John F. Kennedy was assassinated the same day, thus shrouding the unfortunate demise of both the revered novelists.
Huxley's works were influenced by creations of other famous authors—'Brave New World' from Shakespeare's 'The Tempest', 'Eyeless in Gaza' from Milton's 'Samson Agonistes' and 'Antic Hay' from Marlowe's 'Edward II'.
He inspired other great artists, including the rock band, 'The Doors', who took their nomenclature from Huxley's novel, 'The Doors of Perception'.