John Milton Quotes
Poet, Polemicist, and Civil Servant for the Commonwealth of England.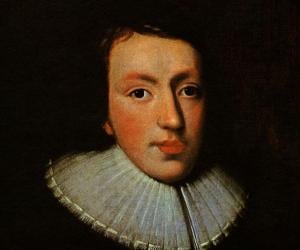 Birth Place
Cheapside, City of London, United Kingdom
Death Place
Chalfont St Giles
Education
St. Paul's School, London, BA, Christ's College, Cambridge University (1625-29), MA, Christ's College, Cambridge University (1629-32)
One day Milton was paid a visit by two very famous personalities in England. One was John Dryden, who had been made the Poet Laureate, and the other was Member of Parliament, Edmund Waller. Milton knew how much Dryden admired his work, 'Paradise Lost', and thus received his uninvited guests quite cordially. During the course of conversation, the three gentlemen began discussing poetic rhythm and other aspects of linguistics used in poetry.
As reported by John Dryden, during this visit, the blind poet had confessed that he had been greatly influenced by the works of Edmund Spenser, the writer of 'The Faerie Queene'. That is when the Poet Laureate requested Milton to grant his permission for adapting the latter's epic, 'Paradise Lost' into rhyme. Milton replied, "'Well, Mr. Dryden, it seems you have a mind to tag my points, and you have my leave to tag them. But some of them are so awkward and old-fashioned that I think you had as good leave them as you found them."
Though it was an ironic criticism of the poetic practices of the Restoration period, Milton also gave his consent to Dryden. The King of Restoration, as John Dryden is referred to, set to work and within a month completed 'The State of Innocence'. The adaptation, written in rhyming couplets and meant for the stage, fared better than 'Paradise Lost' until the end of that century.