Chuck Palahniuk Quotes
Novelist & Journalist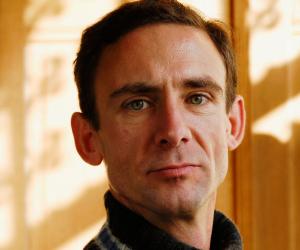 Birth Place
Pasco, Washington
Education
University of Oregon
American novelist, Chuck Palahniuk, of 'Fight Club' fame, once spoke about a short story he had penned, titled 'Guts'. This brief piece was written with the intention of including it in a novel named 'Haunted'. Every week, Palahniuk would meet up with other writer friends and read out his creations. When he first wrote 'Guts', he wanted to generate fear of the most mundane of all things, including "carrots, candles, swimming pools. Microwave popcorn. Bowling balls." However, that particular Tuesday evening at the writers' workshop, nobody was scared; people were in fact laughing after they had heard Chuck's story, 'Guts'. It revolved around three people's separate nightmarish experiences while masturbating.
The same story was read again later, but this time to the public, at 'Powell's City of Books' in Portland, Oregon. On this instance however, the reaction Palahniuk received was way too different. The faces of the listeners had turned grey even before he could finish his tale. It was only after he was done signing books for fans that the gruesome news reached the talented writer. Two young men had fainted during the reading session and were recovering, with absolutely no memory of what had happened before and after the mishap.
Though the novelist dismissed the incident as a mere fluke, he was horrified when the following day at another book reading event, a man and a woman had passed out after listening to his story. And this continued as the next afternoon, two more men fell unconscious. On further observation, it was discovered, that people fainted the moment he read the words 'corn and peanuts'. This went on till Chuck Palahniuk could no longer read the entire story in public, and 'Guts' became a tale that no one wanted to read during bedtime.