Cameron Diaz Quotes
Actress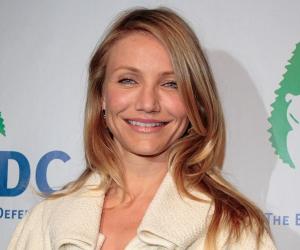 Birth Place
San Diego, California, United States
Spouse
Benji Madden (m. 2015)
Education
Long Beach Polytechnic High School, Long Beach, CA (1989)
"You were approaching 40, was it scary to you? Was it something you were looking forward to?" asked Oprah Winfrey. The way actress Cameron Diaz replied is something most actresses would probably never say even in their wildest dreams. She said, "Oh, now life begins. Oh, this is it! This is the coolest thing ever."
Though it is not normal for an actress of her caliber to come out in the open and accept her age so gracefully, Diaz has set a fashionable trend to do so. She says, "It's a gradual thing and you get to learn about yourself and see yourself and start to live with who you are as you go." This beauty did not take the regular path of relying on Botox and wanted to experience the natural process of aging instead. Still one of the highest paid actresses in the entertainment industry, Cameron feels that the obsession to look younger than one's age is absolutely unnecessary and worthless.
Though this blonde beauty did succumb to pressure during her younger days, Diaz repents the decision she took back then. Cameron is not wary of aging or wrinkles anymore and loves the process of aging naturally. It is this confidence and self-assurance about her, that makes her hold the reins to a million hearts all over the world. Now, you don't come across many actresses like her every day, do you?