Desmond Tutu Quotes
Anti-Apartheid Activist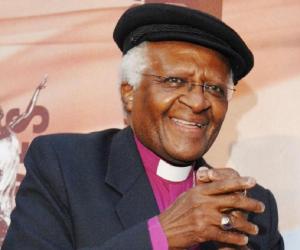 Birth Place
Klerksdorp, South Africa
Spouse
Leah Nomalizo Tutu
Education
King's College London , University of South Africa (1954), St. Martin's School
On 22nd March 2014, in an interview, a 43-year-old man remembered a dreadful incident from his past involving his parents. He was then a young boy who could do nothing but watch his father physically and verbally abuse his mother under the influence of liquor.
His inability to protect his mother from the 'demonic' clutches of his alcoholic father, led to the building of frustration and anger within this young lad. This boy wanted to hurt his father back, for the way he had tormented his mother, ruined her life and consequently his too. As time went by, this unfortunate boy grew up to be the opposite of what he was. The boy we are speaking about is none other than Archbishop Desmond Tutu, who is considered to be the epitome of forgiveness. During this 2014 chat, Tutu said that even though forgiveness is an exceptionally tough task, if his father came back from the dead he would forgive him.
When asked if he was given a chance to talk to his father now, he says "I would begin by thanking him for all the wonderful things he did for me as my father, but then I would tell him that there was this one thing that hurt me very much. I would tell him how, what he did to my mother affected me, how it pained me." Desmond believes that every human should be forgiven, since we all make mistakes. "I am sorry" are the toughest words to utter, says the Archbishop. The pontiff opines that there is immense happiness in asking for forgiveness and it is divine to accept apology. Probably, it was these ideologies that helped him reach great heights in life. Being graced with awards like 'Nobel Peace Prize' and the 'Gandhi Peace Prize' speak volumes about the transformation of this person from being a grief-stricken little boy to a wise man.