Zsa Zsa Gabor Quotes
Socialite, Actress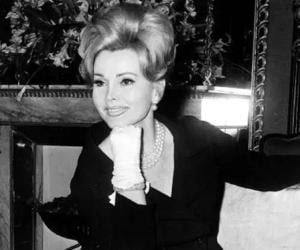 Spouse
Burhan Asaf Belge, Conrad Hilton, Felipe de Alba, Frédéric Prinz von Anhalt, George Sanders, Herbert Hutner, Jack Ryan, Joshua S. Cosden Jr.
Hollywood actress, Zsa Zsa (Hungarian for 'Susan') Gabor was, and still is indeed an unrivalled colorful personality. This brilliant star always seemed to be ready with witty solutions to even the toughest of dilemmas. Apart from the fact that she was one of those few celebrities to have married a whopping nine times, Zsa Zsa also made the news for physically assaulting a man in uniform. Stephen Schochet, a long-time professional tour guide for Hollywood, once recounted an incident where his visitors were fortunate enough to meet this enchanting lady at a Rodeo Drive boutique named 'Fred Hayman'. She not only obliged them with a regular photo session, but also agreed to share a coffee with them.
As if that wasn't enough, Gabor charmingly advised Laura, the bartender of the boutique, on how to look more stunning than she already was. The star even suggested Laura (who looked as attractive as supermodel Cindy Crawford) stay away from alcohol to maintain the beautiful skin that the latter was blessed with. Immediately after that the gorgeous actress said, "By the way, darling, put a little extra brandy in the cappuccino today." As Schochet says, he began reminiscing about the time when a young woman approached Zsa Zsa asking her how to break off her engagement with a rich fiancé who had gifted her diamonds, a stove, a fur coat and a Rolls Royce. Gabor quipped, "Give back the stove".