Rabindranath Tagore Quotes
Poet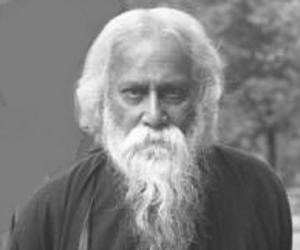 Birth Place
Calcutta, Bengal Presidency, British India (present-day Kolkata, West Bengal, India)
Death Place
Calcutta, Bengal Presidency, British India (present-day Kolkata, West Bengal, India)
Father
Debendranath Tagore
Education
UCL Faculty Of Laws, St. Xavier's Collegiate School, Presidency University
Rabindranath Tagore, who made India proud with his erudite literary accomplishments, has had a life full of emotional turmoil. But in spite of all that the Nobel laureate moved ahead in life giving us an inexhaustible literary treasure.
Tagore was a jovial person and the following incident proves it in the best way. He apparently participated in a teachers meeting and after the commencement of the event, he addressed one of the teachers present there named Nepal Babu. Tagore told Babu that he was becoming forgetful and therefore, the poet will give him 'dand'. This statement put Nepal Babu in a state of utter confusion as he did not know what was his mistake for which Tagore said he will give 'dand' (a word which translates to punishment).
Just then Rabindranath Tagore brought out a stick and gave it to the perplexed teacher saying that this is the 'dand' (stick) Nepal Babu had forgotten at Tagore's place. It was then that the people who witnessed the incident realized that the intellectual Tagore was just playing with homophones and this amused all.
He was also a determined person and a display of this vowed attitude made Mahatma Gandhi realize the truth of Tagore's success.
Once Gandhi paid a visit to the poet and during that time Tagore's well-wishers asked the freedom fighter to talk to the Nobel Laureate about his deteriorating health and ask him to take rest. The Mahatma decided to take action and told Tagore to take a little rest after lunch. Then Rabindranath revealed that when he was 12 years old, he promised himself not to take rest during day time and he has lived up to ever since. This was enough to make Gandhi understand how unwavering Tagore was.