Nicole Kidman Quotes
Actress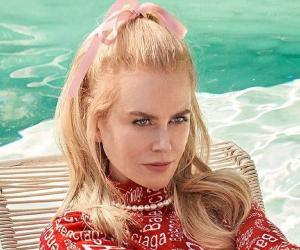 Mother
Janelle Ann Kidman
Spouse
Keith Urban (m. 2006), Tom Cruise (m. 1990–2001)
Education
Australian Theatre for Young People, Phillip Street Theater, North Sydney Girls High School, University of Melbourne Faculty of VCA and MCM
Did you know that popular Hollywood actress Nicole Kidman is a huge fan of Bollywood movies. Her first tryst with Indian cinema was during the time she was working on her Oscar winning project Moulin Rouge. She and director-producer Baz Luhrmann would spend hours screening Bollywood movies and apparently that is when the actress fell in love with them.
Here's the story of the time how chat show host Jimmy Fallon blew up his chance to date her. During her appearance on the Saturday Night show, Jimmy reminded the actress of their first encounter. To which Nicole replied 'Oh, I remember.' She then persuaded Jimmy to tell the audiences about that day.
Jimmy recalled how one of their mutual friends who was with Nicole in New York City that day called up and asked if he was free then he could bring her to his apartment. He agreed instantly and went to pick some cheese and crackers for Nicole. At this point Nicole interjected saying, 'I liked you.' Taken aback by what the Academy winning star just said, he said, 'What?' Nicole then went about explaining how their mutual friend had arranged for a date as she was single. A flummoxed Jimmy replied, 'Wait. What? What are you talking about?'
She then recounted how Jimmy was dressed in sweats and was wearing a baseball cap when he greeted her in. The encounter turned more awkward as Jimmy did not speak much and would only reply in monosyllables when needed. Finally he put up a video game and Nicole humorously adds, 'It was bad' and also revealed that she wondered if the humorist was gay.
After overcoming his embarrassment Jimmy later said, 'I can't believe I dated Nicole Kidman.' 'You didn't,' she replied.