Machine Gun Kelly Quotes
Rapper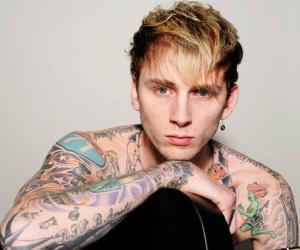 Birth Place
Houston, Texas, United States

New life situations equal out to new kinds of songs.
Everyone in our clique rocks a black bandana with the print 'EST 19XX' on them 24/7. As the underdog, you are expected to lose or give up and 'wave the white towel,' so that is why our flag is black. We never give up - never surrender. EST means 'Everyone Stands Together.' The '19XX' is to represent any age.


Everything is my fault when you're me. I don't know why.

Economics runs the world.

I actually have an Avenged Sevenfold tattoo on my body.

You can make something out of nothing. I proved that with my career, making it out of the city that I'm from.

I'm here to make an impact on the kids who truly care.

There is no VIP. We're all the same.

I'm probably one of the wildest, most out-of-control people in the industry.

I would never think twice about marching next to my brother for an issue we both believe in.

Everything I stood for, forever, since the beginning of time, has been about seeing people as humans. Not as man, woman, white, Hispanic, any of that stuff.

I was a huge punker growing up.

When I was running away, I didn't have somebody there to help me run away. All I had was DMX's voice or Eminem's voice or Tupac's voice.

When you look a certain way, or you have a certain presence, people take someone else's word over yours.

I've had more life experiences than most people that are older than me.

I've never been a bandwagon Clevelander. I've been talking about Cleveland and holding up Cleveland since before we were champions.

I'm trying to be the Dr. Dre of Cleveland.

I'm an anarchist. I have it tattooed on my stomach.

I'm fortunate to have a baby girl who's super into everything that I say and do and really cooperative and just fun to be around. I couldn't imagine having a rebellious kid like me.

I think, with music, I'm a lyricist who talks about real life things.

I have Nineties music oozing out of my pores. What made rock & roll back then is that it was uncensored. It was raw and dark. Think of 'Something in the Way,' by Nirvana - he was telling everyone how he felt.

It's crazy. Even doing that one episode of 'Catfish,' I get people recognizing me for it who didn't even know my music.

I'm known as a voice for a generation of people that don't have a voice.

Puff is more of a mentor rather than someone who's directly involved in my movement or helping me put my album together. It's not like me and him party together. He's definitely more of, like, a mentor.

I'd say I did a lot of what I did with songs like 'At My Best' was because of the influence of my daughter.

I don't think that my music without pain is good music - and I wouldn't know, because I haven't made any music without pain.

I don't believe in hopping from one social issue to the next to be a part of the movement for a moment. Anything I'm involved in is something that I would die for. I can't support things that don't feel genuine.

Not everyone wants to be in misery in every song!

Every night, we put on shows that are deteriorating our bodies' life span... we don't do it for it all to be in vain.

The last thing I want to do is be complacent.
I think couldn't not make a song called 'Wild Boy' and not be a wild boy.

Fame is the weirdest thing ever.

My time on 'Roadies' gave me serenity and space.

I knew so many people were coming up to me because they knew who I was, not because they were fans of my music. That bothered me because I don't want to be a celebrity; I want to be an artist.

I'm from Cleveland. I don't have any famous parents. I don't have any media training, I don't have a history in the industry to where I would have any preconceived notions of how I'm supposed to be.
I'm not that great of a speaker. I don't like watching my own interviews. I think I suck at talking, but one thing I can do is move my pen, and if that's how I gotta speak to my daughter, then let me do that.

There really are a lot of stereotypes I fight.

I don't want to feel like the cool kid in the crowd who doesn't want to do what the artist's saying. I want to be so in awe of the artist that I'm literally jumping up and down, even if I've got on brand new Louboutins.

It seems like I'm one of those people that has the personality where, if I win an award, I wake up the next day, and I'm like 'Oh, but I didn't win this award though, or this didn't happen.'

A lot of time, my inspiration comes from pain: growing pains, hunger pains, or money pains.

It's an honor to step onstage and celebrate the service and sacrifices of our soldiers.

Every time I've partnered with WWE, we've managed to pull off something extraordinary, but to be a part of the Tribute to the Troops special is definitely the highlight.
I respect all grandpas around the world doin' it big.

As soon as 'General Admission' came out, there was a whole new pain that hit me that was rougher than I could imagine.


I was really excited about 'Nerve' with Dave Franco and Emma Roberts.

There's something about America's sweetheart and America's bad boy. That juxtaposition is what everyone desires.

I'm very personal with my music, and it takes a piece of your heart away every time you record that in the studio. So you only have so many pieces of your heart to give away.


My executive board, my management, my friends, are so ethnically diverse.

I think me and Macklemore exist in two different worlds.

Is there someone who can play guitar better than me technically? One hundred percent. But does anyone look better playing a guitar in my generation? Absolutely not.

Cleveland, Ohio, is the real deal.

I've always been a fan of the Club C sneaker because it's super clean and timeless. It's one of those kicks that's been in the street scene forever - more than 30 years.

I'm not just a great white rapper. I'm a great rapper.

I think I've watched and been around so many people that are of a high celebrity grade that I've attempted to soak in every kind of way to deal with fame.

It's awesome to have a brand like Reebok support what you stand for as well as your creative vision, and I'm excited to show you what a Reebok and Machine Gun Kelly collaboration is all about.

Hip-hop influences my talent, but I think that punk and everything else I listened to growing up was who my idols were.

You can't tell my fans that there's a better rapper than Machine Gun Kelly... Hands down, there's no way I'm not in the top five.

The thing I stress to my fans is that I've been making big, universally friendly-type music for a long time now. I never really made underground music.

I love looking at pictures of me in 2012-2017, because every single one of those Machine Gun Kellys looks different.
I feel like a celebrity is someone who sits and takes pictures with people 'cause they love themselves and how they look and how people look at them. But I just want to be regular and respected for my artistry because music doesn't necessarily have a face.

I think that me as a person, and as a personality, even my name alone, 'Machine Gun Kelly' - it is very loud, and it says a lot.

I think more like an entertainer rather than just a rapper. My overall goal is to never be listed as just a rapper. You know how Michael Jackson was listed as a great entertainer? That's what I want to be.

I want to keep the whole 'Lace Up' movement going. I want to take it national and international with a machine, a label.

Every time I perform, I always try to have that 'wow' factor.

With anything that happens in Cleveland, I always get involved.


I was never supposed to get a record deal - that's one in a million.

I don't think having a conservative mind in 2012 is a cool thing.

I have so many accomplishments under my belt.

I listened to Korn and Limp Bizkit and that whole era of heavy music.

They always say if you can make it in New York, you can make it anywhere, but I say that about Cleveland.

Before I even started listening to rap music, I was really into metal and punk.

I don't feel fear anymore, in any form.

I just keep getting inspired to believe that dreams come true and anything can happen, 'cause I've watched so many impossible things happen.

When the universe throws something your way, or things happen, I'm one of those people that goes with it, and I don't fight it.

I was picked on a lot as a kid because of the way I dressed. Metal and punk music got me through that. I know a lot of people don't understand it, but I love metal.

I sell out shows. My performance is top-tier.

I'm a kid from Ohio in an industry that drives people insane.

I've graced almost every stage in N.Y., from Webster Hall to Gramercy Theater to Best Buy.

My view on music and the way that it's portrayed is that it's a religion.

I think the artist community is very tight-knit.

Doing 'Roadies' was a big release for me. I play this character named Wes who's the most pure, innocent form of who I was when I was eighteen searching for something.


As I was coming up, there was so much naysaying, there was so much doubt, whether it was from my peers or people in the industry.

The normal MGK reaction that everyone expects is for me to be angry and go off, because my history shows that's the type of attitude I'm bringing to the table.

When I came into the industry, and as I continue to be in it, part of my authenticity is the fact that I speak my mind.

I'm not one of those acts where it's, like, this mainstream person, where the average white kid at Harvard University is like, 'It's educational tonight. Let's all go out there and spend Dad's money.'

Honestly, I look in the mirror, and I'm not the greatest looking kid.

I recognize fans at every show.

I don't want my daughter to grow up and feel like she has to try that hard to get people to accept her.

To be considered for the hottest breakthrough MC of 2011, it's obviously an honor, but I want to be the hottest.

I've never been comfortable with sharing anything: I was a single child.

Imogen Poots loves music to death and can literally name 300 bands that she listens to, that you've never heard. She's so heavy into the underground music scene. When she's speaking on music, she means it.

There's blackballing involved with Machine Gun Kelly, a lot of confusion about who I am as an artist. But that's so small in the wake of someone like Nelson Mandela.

'Cleveland' went viral, but it didn't necessarily pop. I didn't have that support. I didn't have a deal when I made 'Cleveland' or anything like that.

As far as I'm concerned, I don't really care anymore what people think about me. I'm just gonna be me.

I've become so much more comfortable divulging things I've never talked about before, honing in on certain relationships that everyone can relate to.