Elie Wiesel Quotes
Writer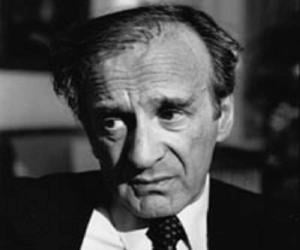 Death Place
New York City, New York, United States
Spouse
Marion Erster Rose
Being a Jew, somehow surviving during the Nazi invasion of Germany, Elie Wiesel was never expected to have become such an influential writer. However, this man's life was highly eventful, and so we give you a sneak peek into certain interesting aspects of his life:
Elie's father was a grocer and the only things that this brilliant penman could inherit were a spoon and a knife.
On one occasion Elie was witness to a young boy being hung at the gallows. This distressed the author to such an extent, that ever since then he was unable to enjoy his meals.
Wiesel wrote a lot about his experiences during the Nazi Holocaust. There have been several Germans who deny the Holocaust ever taking place. One such person vehemently protested against his writing and forced Elie to confess that the concentration camps he wrote about were all a lie. Fortunately, the author did not suffer any physical injury and instead, the tormentor was incarcerated for two years.
It is said that there were two photographs that altered this writer's life drastically. One was taken while Wiesel was at Buchenwald's concentration camp. This of course was proof of the torture meted out to the Jews by the Nazis. The other picture was taken at the orphanage where Elie was housed after the camp was shut down. It was because of this photograph that the writer was reunited with his sister several years later.