Andrew Carnegie Quotes
Industrialist, Businessman, Entrepreneur and a major Philanthropist.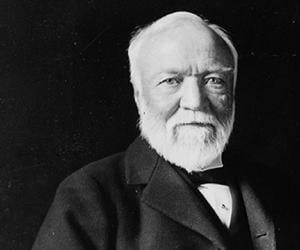 Andrew Carnegie was not born with a silver spoon, but with his hard work and intelligence he became one of the richest men in the world. As a teenager he worked at a textile mill, as a telegraph messenger boy and then got a job as a telegraph operator. Once in order to escape He then soared to the position of superintendent of the railroad' western division, and began investing in the wide range of industries. Once a train wreck caused delay in transportation, and while all would have chosen to wait for it to get repaired, Carnegie set fire. Though this seems to be insane, later it was found that this process was cheaper than getting the thing fixed. His wheels of fortune turned and he transformed into a business tycoon in steel industry. Often dubbed as the 'Father of Modern Philanthropy', this billionaire was thoughtful about the poor and wrote 'The man who dies thus rich dies disgraced', deciding to donate as much as he could.
This entrepreneur helped the 'New York Philharmonic Society' by paying for its annual deficits. But one day he stopped before signing the cheque worth $60,000 and said to the secretary of the organization, "No, I've changed my mind. Surely there are other people who like music enough to help with their own money." He asked the person to collect half the amount from other sources and rest half he will pay. The secretary arrived at his mansion the next day and said that he had arranged half the amount. Therefore, Carnegie appreciated the man and signed a cheque of $30,000. However, before hanging it over he asked, "Would you mind telling me who gave you the other half?"
The secretary replied, "Not at all. Mrs. Carnegie."
This generous man was an inspiration when alive and his enduring quotes will motivate us for times to come.